SHE LIVES BUDAPEST PRIZE 2021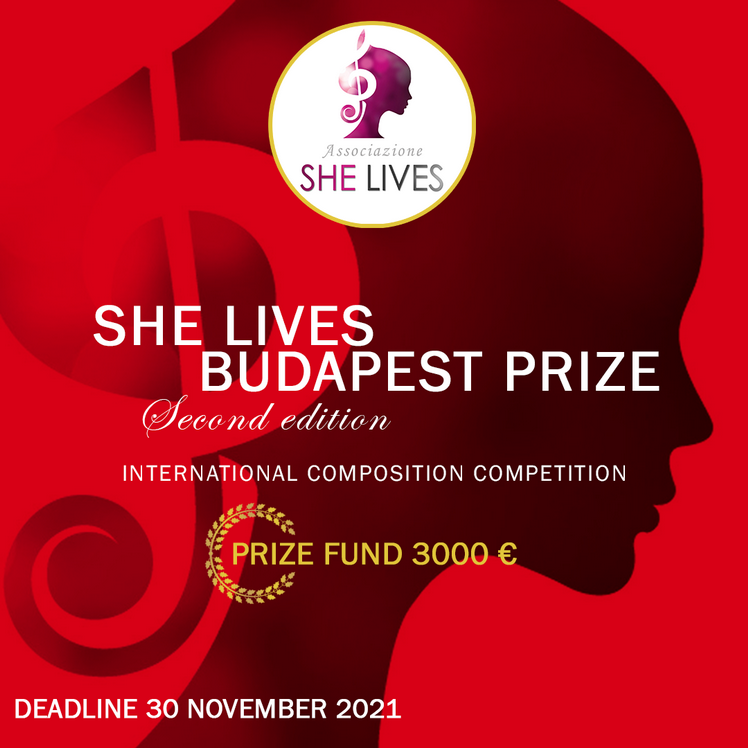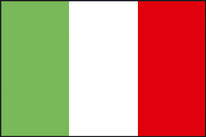 (Italiano)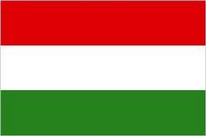 (Magyar)
SHE LIVES
— the leading European musical association for promoting the dissemination of contemporary music— is honoured to announce the second edition of the
"SHE LIVES Budapest Prize"!
SHE LIVES is a non-for-profit organisation. Since its establishment it has had the privilege of working with internationally acclaimed artists such as Peter Eötvös, Lasse Thoresen and Sidney Corbett, as well globally renowned institutions, including: Solisti della Scala di Milano, Teatro dell'Opera di Roma, Accademia Chigiana di Siena, Accademia Filarmonica Romana, Fondazione Scelsi, Reale Ambasciata di Norvegia, Istituto Svizzero di Roma, UMZE (the historic ensemble founded by Bartók), Budapest Music Center, LAC – Lugano Arte e Cultura, Festival oggimusica, Yamaha Concert Hall Wien, Pro Helvetia, Contemporary Art Festival Budapest, Warner Classics, and Naxos. She Lives is also the organizer of the first composition competition in Italy in terms of participants, the "Andrea Ceraso Rome Award".
COMPETITION REGULATION
1. The competition is open to composers of all ages and nationalities, without restrictions of gender, ideas, religious affiliation etc.
2. The competition theme is the composition of a piece for piano solo.

3. Prepared piano, the use of electronics, and fixed media are allowed.
4. Live electronics are not allowed.
5. The duration of the piece must not exceed 25 minutes. There are no minimum duration limits.
6. The piece may have already been performed, published,
and awarded in competitions other than those organized by the She Lives association.
7. There are no style limitations. The jury will evaluate the musical quality and originality of the writing.
8. The piece can be written with a notational programme (Sibelius, Finale, etc.) as well as handwritten as long as it is clearly legible.
AWARDS
First Prize (Winner)
: 1000 euro + performance* + portfolio (i.e., composer's personal page) on the She Lives website.
Potential bonus Excellence Prize for the winner: an additional 1000 euro and Excellence Prize will be awarded should the average score exceed 9 points out of 10.
Second Prize
: 500 euro + performance* + portfolio (i.e., composer's personal page) on the She Lives website.
Potential bonus Distinction Prize for second place: an additional 300 euro and Distinction Prize, will be awarded should the average score exceed 8.5 points out of 10
Third Prize
: performance* + portfolio (i.e., composer's personal page) on the She Lives website.
Potential bonus Recognition Prize for third place: an additional 200 euro and Recognition Prize, will be awarded should the average score exceed 8 points out of 10.
*The winning compositions shall be performed in the 2021/2022 or 2022/2023 SHE LIVES Association concert season.
DEADLINE
November 30, 2021 (23:59 Rome time)
PARTICIPATION FEE
The competition participation fee is of 55 euros for the first piece submitted.
Each composer can participate in the competition with a maximum of 5 pieces (first piece + 4 others). A sum of 25 Euros will be paid for each additional piece.
For clarity, the following are the participation fees in relation to the number of compositions sent.
1 piece: 55 Euros
2 pieces: 80 Euros
3 pieces: 105 Euros
4 pieces: 130 Euros
5 pieces: 155 Euros
The participation fee can be paid by bank transfer (t
hose who have problems with the bank transfer can pay the fee with PayPal. In this case, please write to: info@shelivesmusic.it.)
:
Bank transfer:
IBAN: IT70D0306909606100000131702
BANK NAME: INTESA SAN PAOLO SPA, Milano.
SHE LIVES ADDRESS: Vie Belisario 6, 00187 – Roma (Italy)
JURY
László Tihanyi, composer and conductor, professor at the Liszt Academy of Music in Budapest - Chief of the jury (Hungary)
PARTICIPATION
Send an email to info@shelivesmusic.it with the header SHE LIVES BUDAPEST PRIZE
Attach the following documents to the email:
1) Score(s) in pdf. The piece must be anonymous. Only the title of the piece must appear on the score. It is possible to send handwritten pieces but they must be clearly legible.
2) Short biography of the composer.
3) Commentary on the piece(s) (NOT mandatory).
4) mp3 of the audio recording, if any (NOT mandatory).
5) Receipt of payment or screenshot of the payment of the participation fee,
6) Application form (download it here: SHE LIVES Budapest Prize application form)
Applications for participation and the relative registration fees must be sent by 23:59 (Rome time) of 30 November 2021. Registrations and payments received after this date will not be considered. The winning works will be announced by 31 December 2021. The jury's decision is final and cannot be appealed. The results will be announced on our website and through our social media platforms, as well as through private emails. The participation fee is non-refundable.
By participating in the competition you accept all the rules that determine it and the processing of personal data in accordance with the current European regulations.
For further information, write to:
info@shelivesmusic.it