MICHAEL BARRETT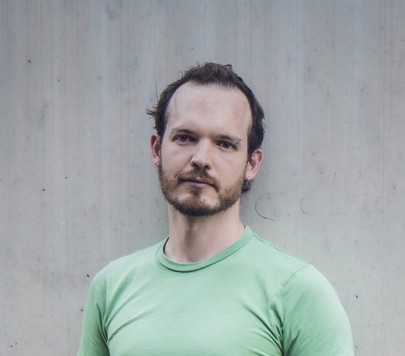 Michael Warren Barrett was born in Washington, D.C. and began his music studies at the age of 12 with guitar, voice, and music theory. He continued on to his bachelor degree at Baldwin-Wallace College conservatory of music, where he was a three time recipient of the the Lee Goldstein Composition Award.
After his bachelor, he moved to Mannheim, Germany, where he continued with his composition studies under Sidney Corbett. During his studies, he composed his acclaimed piano solo, Listen to this Alone. He also enjoyed many collaborative projects, such as working with composer Friedrich Stockmeier to compose a new score to the 1920's Charlie Bowers film, Egged On. This film with its new score was broadcast on ARTE TV and performed live in Heidelberg. He has worked on projects as a Composer/Instructor at the National Theater and Theater Osnabrück. His orchestra piece 'Pull' was Performed in both Mannheim and Heidelberg in 2015 and received honorable mentions from the American Composers Orchestra's Underwood New Music Readings & Comission competition.
His guitar solo Ocean Still has been published by Verlag Neue Musik and can be heard on Maximilian Mangold's solo CD, Strahlen. Licht. He also has a collection of student guitar ensemble pieces which have been performed multiple times and have also been published. His recent choir piece, Isiah, was commissioned and performed the Junger Kammerchor Mannheim.
List of Works:
Isiah
Mixed Choir
7'
Premiered by the Junger Kammerchor Mannheim, 2018
​
Im Gewitter der Rosen
Bass Clarinet, Harp, Percussion, and Soprano solist
6'
-and-
Orpheus
Baritone and Guitar or Harpsichord
4'
both works premiered by Theater Osnabrück, 2017
​
Ocean Still
Solo Guitar
8'
Commissioned and recorded by Maximilian Mangold
Heart
Flute, Viola, and Harp
18'
Premiered by Trio Momentum, 2016
Breathlessness
Clarinet and Organ
6'
Premiered by Nico Friedrich, solo clarinetist of the Mannheim Opera, 2016
​
2 Songs of Hermann Hesse
6'
For Soprano or Tenor and Piano, 2015
Pull
Orchestra
15'
Premiered in Heidelberg, Germany and Mannheim, Germany in February 2015
Soundtrack to Egged On By Charley Bowers
Mixed Chamber Ensemble (8 Musicians)
20'
Broadcast internationally by Arte for 2 weeks in December 2014
Student Guitar Works:
Night Fall Storm
two Guitars, 2020
​
Winter Night Whispers
two Guitars, 2019
What Hides in the Forest
solo Guitar 2018
To Fell A Tree
three Guitars, 2016
​
Discography:
Strahlen. Licht.
By Solo Guitarist Max Mangold.
Audio/Video:
Everything linked on my website
Upcoming Performances:
Suite for Guitar Orchestra
No dates announced yet
To be performed by the Jugend-Gitarrenorchester von Baden-Württemberg